3rd APRI Youth Innovation
by adminapri
July 23, 2020
0 comments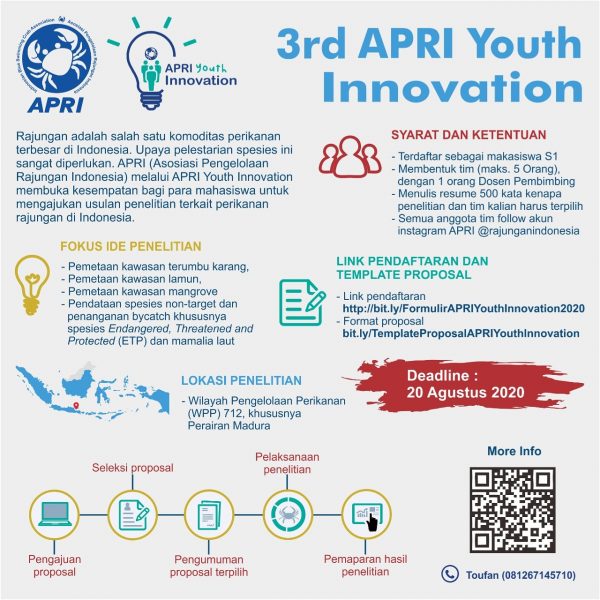 APRI Calls Innovative Young People!
3rd APRI Youth Innovation
Blue swimming crab is one of the biggest fisheries commodities in Indonesia. efforts to preserve this species are needed. APRI (Asosiasi Pengelolaan Rajungan Indonesia) through the APRI Youth Innovation give an opportunity for students to submit research proposal related to the blue swimming crab fisheries in Indonesia. The best idea will get a research grant from APRI.
Terms and Conditions
Form a team (max. 5 people) with 1 supervisor
Registered as S1/bachelor students
Write a 500 word resume on why your research and team should be choosen
All team members follow the APRI Instagram account @rajunganindonesia
The Focus of the Research Ideas includes:
Mapping of Coral Reef Area
Mapping of Seagrass Area
Mapping of Mangrove Area
Data Collection for Non-Target Species and Bycatch Handling especially Endangered, Threatened and Protected (ETP) Species and Marine Mammals
Research Area: Fisheries Management Area 712 (FMA712/WPP712) especially Madura Waters
Registration http://bit.ly/FormulirAPRIYouthInnovation2020
Proposal Template http://bit.ly/TemplateProposalAPRIYouthInnovation
Deadline 20 August 2020
Contact Person:
Toufan: 081267145710
More Info:
www.apri.or.id
#rajunganindonesia
#traceablesustainablecrab
#GTK5